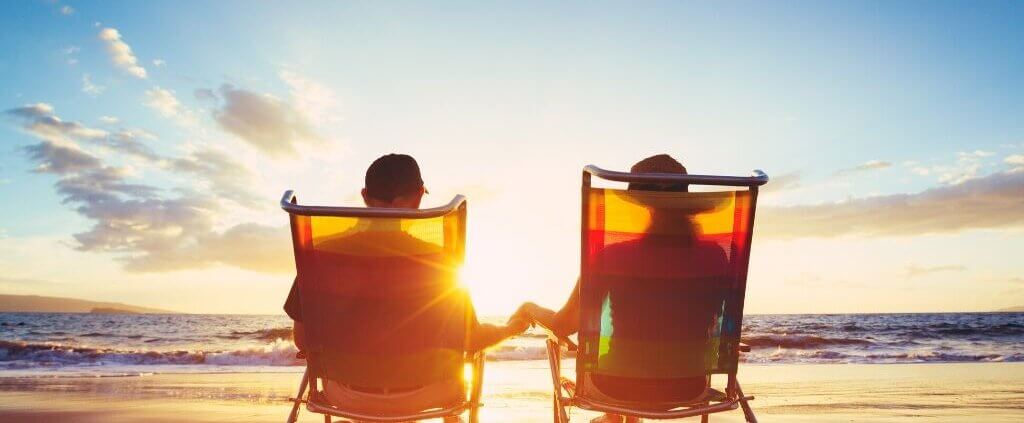 By Jeff Gilbert
At Balboa Wealth Partners, our goal is to help our clients retire and enjoy their golden years the way that they want to. Often, our clients come to us with an array of retirement goals that may seem difficult to obtain. But in the end and with careful planning, our clients are able to look forward to retirement with confidence. This case study examines just that: our clients had a goal of retiring early. With thorough risk analysis and wealth management planning, we were very happy to have helped our clients work towards achieving their objectives.
The Client
These particular clients were a couple who, for privacy reasons, we will call Susan and Greg. Susan and Greg had both been married before and had children from previous marriages but they had none with each other. I had been working with Susan longer than they had been married.
Susan and Greg were well suited for each other. They entered their marriage with about the same amount of assets and were working hard to blend their finances and their families by making all three children from their previous marriages equal beneficiaries in their estate plan. Susan and Greg had major positions with their corporate employers and both have been successful at climbing the corporate ladder for over 30 years.
The Goal
Susan and Greg both wanted to retire early from their careers, and after three decades working for their respective companies, they deserved some rest and relaxation. Susan was planning to retire at age 58, while Greg was planning his retirement at age 60.
While these are reasonable goals for any couple, Susan and Greg came to me with this plan less than two years before their desired retirement age. We had much to accomplish and sort out before Susan and Greg took that first step toward retirement.
How We Helped
Luckily, I knew Susan and Greg from working with them at my previous firm,. Unfortunately, at the old firm Susan and Greg did not feel like they were getting the personal attention and planning needed for them to achieve their retirement goal. So in early 2019, they reached out to me and asked if we could work together again to maintain their wealth management plan.
I was delighted to re-engage with my old clients and further develop their retirement strategy. With my help, we ironed out a wealth management and retirement plan that allowed both Susan and Greg to retire early.
It was important to this couple that they maintain their upscale lifestyle into retirement, and with my help, Susan and Greg have been able to do just that. This couple is now on track to retire in about 18 months, right on time with their goal. They live each day confident that they have done the right things in accumulating assets, and I look forward to the day that we will all celebrate their retirement.
With all our clients, we are diligent about keeping their financial plan updated and accurate. We tend to refresh it every three to four months and work hard to tweak it to reflect all worst-case scenarios. We also check in with our clients on a monthly basis and look for the optimal financial tools to use when any large spending is needed.
We're Here for You
At Balboa Wealth Partners, we strive to provide our clients with the very best financial tools available and unobstructed guidance to maximize their wealth management strategy. If you are interested in working with us, give me a call at 949-445-1465 or email me at [email protected]. You can also contact us at the Scottsdale office at 480-801-5100, [email protected].
About Jeff
Jeff Gilbert is the founder and CEO of Balboa Wealth Partners, a holistic financial management firm dedicated to providing clients guidance today for tomorrow's success. With nearly three decades of industry experience, he has worked as both an advisor and executive-level manager, partnering with and serving a diverse range of clients. Specializing in serving high- and ultra-high-net-worth families, Jeff aims to help clients achieve their short-term and long-term goals, worry less about their finances, and focus more on their life's passions. Based in Orange County, Jeff works with clients throughout the entire country. To learn more, connect with Jeff on LinkedIn or email [email protected].
Advisory services provided by Balboa Wealth Partners, Inc., an Investment Advisor registered with the SEC. Advisory services are only offered to clients or prospective clients where Balboa Wealth Partners and its Investment Advisor Representatives are properly licensed or exempt from registration.
Securities offered through Chalice Capital Partners, LLC, member FINRA, SIPC.
Balboa offers advisory services independent of Chalice. Neither firm is affiliated.
https://balboawealth.com/wp-content/uploads/2021/09/Client-Profile.jpg
512
1024
Jeff Gilbert
https://balboawealth.com/wp-content/uploads/2017/03/logo.png
Jeff Gilbert
2021-09-12 14:54:37
2021-09-13 09:41:58
Client Profile: How I Help My Clients Retire Early