By Jeff Gilbert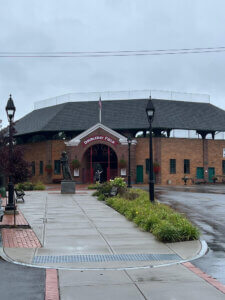 For many years, I've maintained a passion for America's favorite pastime, playing in adult baseball leagues throughout the seasons. These leagues have not only been a source of camaraderie but also a way to keep the thrill of the game alive in my adult years. A few times each year, I've had the privilege of teaming up with old friends and teammates to participate in baseball tournaments. 
Today I wanted to share a bit about my unforgettable experience playing on the iconic Doubleday Field in Cooperstown, New York, and my first visit to the Baseball Hall of Fame.
Doubleday Field
It was a dream invitation—I was invited to play for the first time in the adult league baseball tournament in Cooperstown, a veritable mecca of baseball. Arriving in Cooperstown, I was immediately struck by the idyllic beauty of the town, but it was the sight of Doubleday Field that truly took my breath away. As I stepped into the historic ballpark, the same turf once graced by baseball legends, I couldn't help but feel a profound connection to the history of the sport.
The Hall of Fame 
Beyond the tournament, my time in Cooperstown held another highlight: my first visit to the Baseball Hall of Fame. Walking through the halls of this shrine to the sport, I was surrounded by baseball's rich history, from Babe Ruth's iconic bat to Jackie Robinson's game-worn jersey. It was an awesome reminder of the profound impact baseball has had on American culture as well as the hearts of its fans.
A Championship Moment
As the tournament progressed, my team advanced, and finally we stood victorious on Doubleday Field, champions of the Cooperstown adult league baseball tournament. It was an incredible moment, a culmination of years of dedication to the game.
My journey to Cooperstown was more than just a baseball tournament; it was a pilgrimage to the heart and soul of the sport I love. It was a reminder that no matter how many years I've played, the game still has the power to surprise, inspire, and bring people together.
Team Up to Leave a Legacy
At Balboa Wealth Partners, we believe in creating a life that includes your passions and purpose. We take the values you love and integrate them into a financial plan that builds into a lasting legacy. If you're ready to team up, give me a call at 949-445-1465 or email me at [email protected].
About Jeff
Jeff Gilbert is the founder and CEO of Balboa Wealth Partners, a holistic financial management firm dedicated to providing clients guidance today for tomorrow's success. With over three decades of industry experience, he has worked as both an advisor and executive-level manager, partnering with and serving a diverse range of clients. Specializing in serving high- and ultra-high-net-worth families, Jeff aims to help clients achieve their short-term and long-term goals, worry less about their finances, and focus more on their life's passions. Based in Orange County, Jeff works with clients throughout the entire country. To learn more, connect with Jeff on LinkedIn or email [email protected]. 
Advisory services provided by Balboa Wealth Partners, Inc., an Investment Advisor registered with the SEC. Advisory services are only offered to clients or prospective clients where Balboa Wealth Partners and its Investment Advisor Representatives are properly licensed or exempt from registration.
Securities offered through Kingswood Capital Partners, LLC, member FINRA, SIPC.
Balboa offers advisory services independent of Kingswood. Neither firm is affiliated.
https://balboawealth.com/wp-content/uploads/2023/09/Baseball.jpg
900
1600
Jeff Gilbert
https://balboawealth.com/wp-content/uploads/2017/03/logo.png
Jeff Gilbert
2023-09-01 16:51:50
2023-09-06 12:37:08
My Experience at the Cooperstown Adult League Baseball Tournament